Scientists warn that if greenhouse gas emissions continue apace, Greenland and Antarctica's ice sheets could together contribute more than 39cm to global sea level rise this century.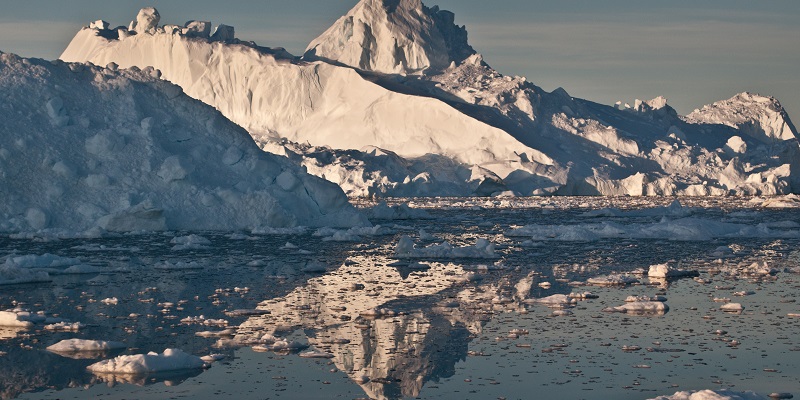 From University of Leeds press release, 17th September
The Ice Sheet Model Intercomparison Project (ISMIP6) is an international team, which includes a number of CPOM scientists, making predictions of ice sheet change under future climate scenarios to support the Intergovernmental Panel on Climate Change (IPCC).
ISMIP6 is led by NASA's Goddard Space Flight Center in Greenbelt, Maryland and brings together more than 60 ice, ocean and atmosphere scientists, including CPOM Director Andrew Shepherd (University of Leeds), CPOM Land Ice Lead Tony Payne (University of Bristol), CPOM staff researcher Victoria Lee (University of Bristol), and CPOM Associate Investigators Tamsin Edwards (King's College London) and Isabel Nias (University of Liverpool).
Their latest findings, published this week in a special issue of the journal The Cryosphere, has estimated the impact Earth's melting ice sheets could have on global sea levels by the end of the century.
The results reinforce projections made by the Intergovernmental Panel on Climate Change's (IPCC) in their 2019 Special Report on Oceans and the Cryosphere.
The ISMIP6 team investigated two different scenarios the IPCC has set for future climate to predict sea level rise between 2015 and 2100: one with carbon emissions increasing rapidly and another with lower emissions.
Under the high emissions scenario, ice losses from Greenland cause an additional 9 cm of global sea level rise by 2100, while Antarctica causes an additional 30 cm over the same period.
Under the lower emissions scenario, Greenland's ice loss would raise global sea level by about 3 cm by 2100, while Antarctic growth would lower sea level by 7.8 cm.
The greatest loss is from West Antarctica, responsible for up to 18 cm of sea level rise by 2100 in the warmest conditions.
The new results from ISMIP6 will inform the IPCC's Sixth Assessment Report, scheduled for release in 2022.
"Unfortunately it's now clear that ice sheet losses have risen rapidly during our lifetime, and that this will continue if we don't reduce our CO2 emissions."

PROFESSOR ANDREW SHEPHERD
Professor Shepherd said: "Having three decades of satellite measurements has greatly improved our ability to simulate how Antarctica and Greenland respond to climate change. Unfortunately it's now clear that ice sheet losses have risen rapidly during our lifetime, and that this will continue if we don't reduce our CO2 emissions.
"An extra 39 centimetres of sea level rise will cause huge disruption for our coastal communities, so we should view these predictions as a powerful early warning – but now is the time to act."
"One of the biggest uncertainties when it comes to how much sea level will rise in the future is how much the ice sheets will contribute," said project leader and ice scientist Sophie Nowicki, now at the University at Buffalo, and formerly at NASA Goddard. "And how much the ice sheets contribute is really dependent on what the climate will do."
"The strength of ISMIP6 was to bring together most of the ice sheet modeling groups around the world, and then connect with other communities of ocean and atmospheric modelers as well, to better understand what could happen to the ice sheets," said Heiko Goelzer, a scientist from Utrecht University in the Netherlands, now at NORCE Norwegian Research Centre in Norway. Goelzer led the Greenland ice sheet ISMIP6 effort.
"The Amundsen Sea region in West Antarctica and Wilkes Land in East Antarctica are the two regions most sensitive to warming ocean temperatures and changing currents, and will continue to lose large amounts of ice," said Hélène Seroussi, an ice scientist at NASA's Jet Propulsion Laboratory in Southern California.
Seroussi led the Antarctic ice sheet modeling in the ISMIP6 effort. "With these new results, we can focus our efforts in the correct direction and know what needs to be worked on to continue improving the projections."
Further information: 
Top image: Credit: Ian Joughin – Icebergs in Disko Bay, Greenland
For additional information contact press officer Anna Harrison a.harrison@leeds.ac.uk